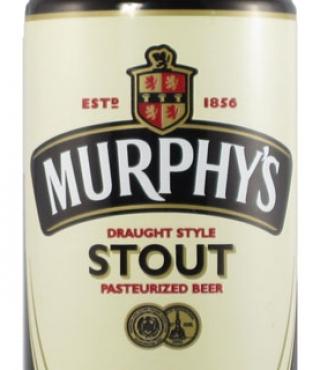 Description:
Murphy's is our stout - a distinctive, premium Irish stout, with a smooth and bitter flavor, which distinguishes it from their stout. It is brewed using all natural ingredients, which includes pale malt, roasted materials, water, hops and yeast. This combination of ingredients gives the beer its distinctive appearance and taste.
The Murphy's pour takes a special talent. The first variable is tap temperature – Murphy's should be served between 39 and 43 degrees Fahrenheit. Second, is the glass angle – the glass should be held at a 45 degree angle to get the optimum pour, filling about 70% of the glass. Next, wait a few moments before topping off your Murphy's to create a smooth foamy head. Yes, it takes patience and practice, but Murphy's is worth the wait.
If you're not drinking Murphy's on tap at your local pub, you can still get the same creamy, smooth pint at home. The widget, found in Murphy's cans, contains the gas required to create the draught flow effect when the can is opened. Ah, a smooth Murphy's right at home. (Description provided by US distributor)
Murphy's also markets their stout as Murphy's Irish Stout, Murphy's Draught, and Murphy's Pub Draught.
Locations Where Available: