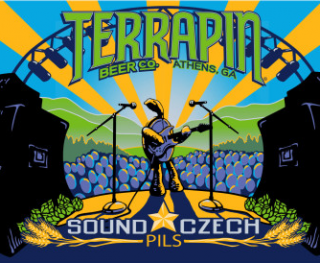 Description:
Check 1,2. Czech 1,2…Is this thing on?
We're excited to announce our newest year round beer, Sound Czech Pils.
This Czech Style Pilsner was originally part of the Georgia Theater Session Series back in 2010. The Pils was one of four beers that was released as part of the fundraising effort to rebuild the Theatre after a fire destroyed the Athens landmark. Now, Sound Czech is back on tour with an updated recipe and brand new packaging (12 oz. cans) perfect for outdoor concerts or a late night show.
The lager is brewed with 100% Pilsner malt, and is accompanied by German Magnum, Czech Saaz, and Saphire hops. The fresh aroma and noble hop character give way to a perfect malt balance and a snappy dry finish.
From the Label:
Like music to your ears, Terrapin "Sound Czech Pilsner is a concert of flavor. Brewed with 100% Pilsner malt for exceptional crispness, and accompanied by Czech and German hops for noble superiority, this traditional lager will make you stand up for an encore performance. "Turn it up!" (Description provided by company)
Locations Where Available:
Mid-Atlantic
Southeastern US