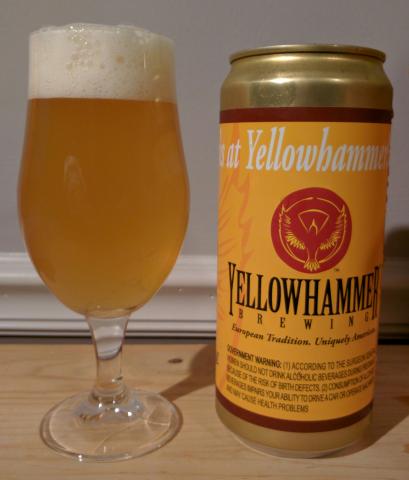 The Beer Fairy handed me a crowler of a new brew from Yellowhammer named "Joey Freshwater Gose" the other day. Last night, once home from work, I popped the can open to review. Oh, it turned into such a nice way to wrap up my day. What the brewers called Joey Freshwater Gose is being released to the public with the name "Kettle Sour Gose".
I poured the gose into a tall tulip glass to reveal the unfiltered wheat beer to be a hazy straw color and a bright white foamy head formed on top. For an unfiltered beer, I expected it to be more cloudy. Regardless, Kettle Sour Gose looks good in a glass. It took a minute or two for the head to melt away. Sure was pretty while it lasted; no ring stuck around and no lacing could be found on my glass.
When I take a sniff, I get mostly a lemony-citrus smell. It isn't fresh lemons, more of a lightly sugar-sweetened lemon...like freshly made lemonade. The sweet citrus is rounded out with a bit of spice and a slight grape-like presence.
The taste doesn't venture far from what I could smell, but added a complexity. When I take a drink, it is still citrus-focused. However, along with the lemon I could smell, I could taste some orange traits in there too. The citrus is then followed up with a dash of salt - not quite as much as many goses I've sampled and I am perfectly fine with that. In fact, an interesting thing I noticed was that Kettle Sour Gose was featuring the citrus as I drank, but the aftertaste has the salt turned up enough that there is a margarita-like flavor lingering on my palate. This complexity in the taste adds to my desire to drink this gose on my porch at the end of a summer day. The light body makes this a refreshing option that satisfied me when I gulped it down and when I took my time and sipped it.
I thoroughly enjoyed this offering from Yellowhammer Brewing (whether it's called Joey Freshwater Gose or Kettle Sour Gose) and I hope it becomes a regular seasonal they brew. This beer has traits that should give it a broad appeal and well worth trying for any beer drinkers who like shandies, goses, and wheat beers. If Shocktop was making this, I could see them marketing it as a Lemon Sour Shandy. This beer seems perfectly fit for enjoying on summer afternoons and evenings to me.